In this Anyoption review, I will take a look at whether Anyoption is a broker that you can trust for your trading journey. And I feel this is pretty important, as finding a good broker is incredibly important when your money is involved.
So let's get into this!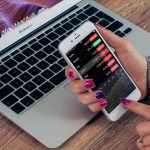 AnyOption Overview:
Official Website: www.anyoption.com
Headquarters: Cyprus
Execution Type: Binary Options
Minimum Deposit: $200
Phone Number: 866-844-4540 (USA)
Email Address: [email protected]
Trading Platform Used: AnyOption Platform
AnyOption Reviews
Anyoption is one of the first online binary options trading platforms. It was established in 2008 and is headquartered in Cyprus. The company offers a web-based trading platform that enables users to trade binary options. Anyoption has over 200 employees and serves customers in over 80 countries. The company is regulated by the Cyprus Securities and Exchange Commission (CySEC). Of course, Cypress is often known as an offshore tax haven for shady companies, and with Anyoption receiving a number of complaints that they are running a scam it doesn't look great.
But let's investigate further to see what's really going on.
What are the Features of AnyOption?
Anyoption provides the following features to its traders:
The entire trading platform for Anyoption is web-based. Downloads are not required in any way. This makes accessing this platform really simple and quick.
The Anyoption trading platform makes use of cutting-edge technology to give you the most up-to-date and effective tools for a positive Binary Option Trading experience.
It is one of the most reliable trading platforms available today in the binary options market.
The user interface of the Anyoption trading platform is intuitive and easy to use. It is quite educational and fantastic for both market veterans and newbies.
In all market transactions, you will receive a good level of accuracy and trade execution speed.
The trading platform Anyoption has a unique algorithm. So long as the basic asset is traded on the market in real time, you can trade it. To help with transactions, they use real-time third party data from Reuters.
The Anyoption trading platform has advanced significantly with the introduction of Anyoption mobile. Now you can access the platform from any location at any time while still carrying on with your business. You can access all the features of the Anyoption trading platform through it.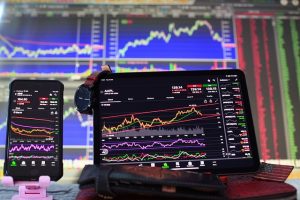 Anyoption Pros and Cons
Pros:
Many Trading Features
Wide Choice of Assets
Cons:
No Account Information
No Demo Account
No Bonuses
Lots of complaints from previous users
Note: AnyOption has ceased all operations.
Any Option User Reviews
Very Bad Experience. I have lost around 25,000 USD. To get you involved the senior account manager, talked very nicely like they would help ,assist, can make profits by following their signals,blah blah blah.
But wrong signals were sent and trusting them and following the signals, i lost all my hard earned money. And then the tone and way, the account manager and support staff talked is horrible. I would not recommend and would never use their services
Date of experience: January 24, 2021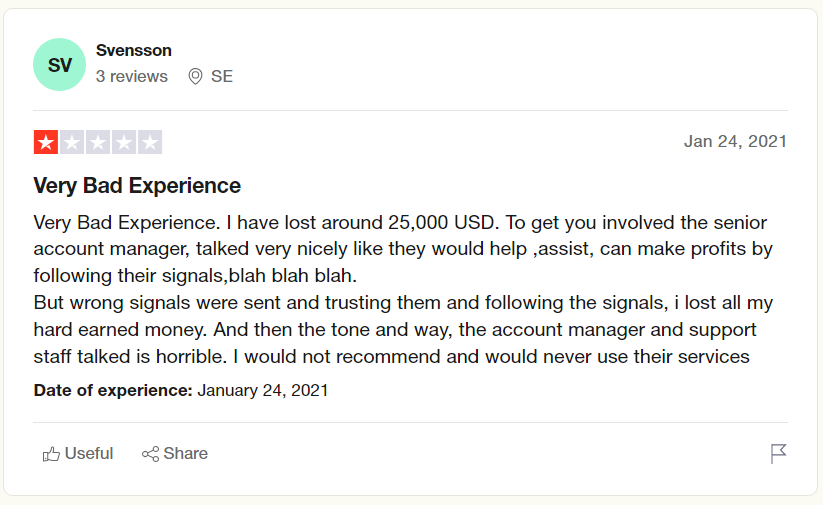 source: https://www.trustpilot.com/review/www.anyoption.com
Scam. As with all options trading you dont actually own anything and they take your money, refuse to pay back and clearly post false reviews. Not accepted by the FCA and to be avoided at all costs
Date of experience: November 09, 2020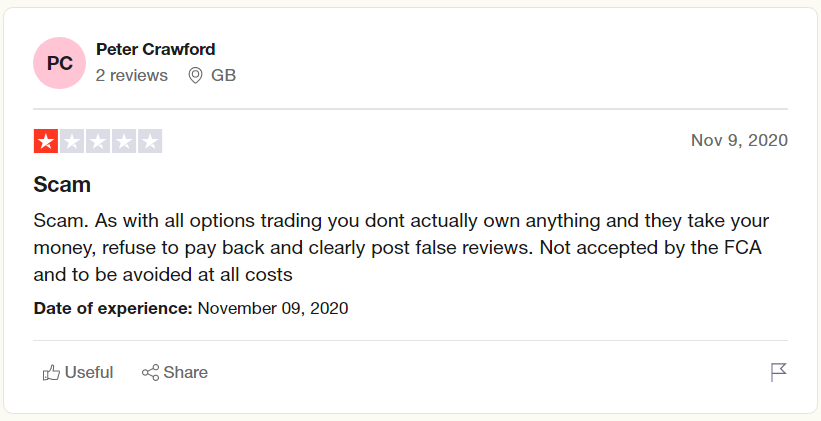 source: https://www.trustpilot.com/review/www.anyoption.com
March 12th, 2019
I have invested about $******* and was promised to increase my finances. All was well until a 6 weeks ago, I was unable to log into my account. Tried contacting the broker with no avail, used their customer support still nothing. Emails sent to broker with no response. I done a claim under visa chargeback but it didn't work for me, I was disappointed and in debt for a while until I came across binaryoptionassetrecovery (, com. I was lucky to find this company who helped me. Feel free to make inquiries with them regarding your issues, its free!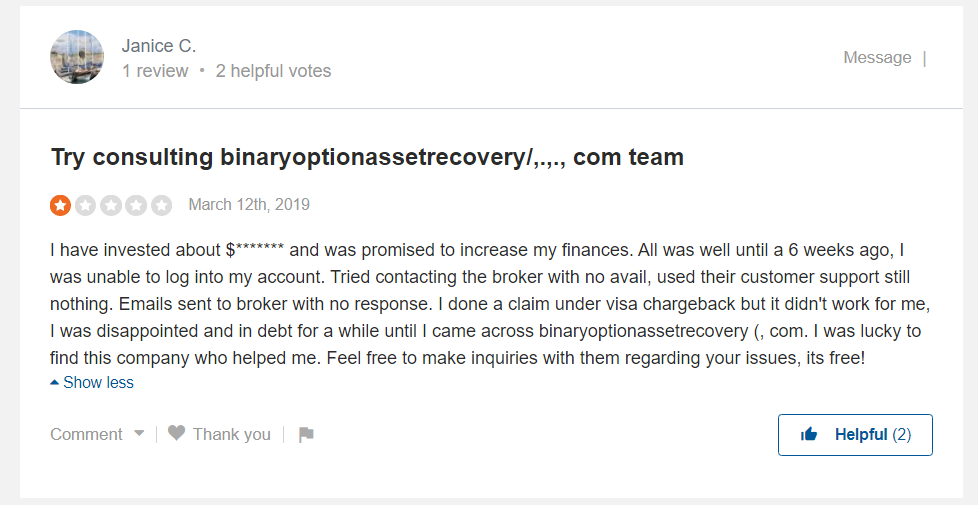 source: https://www.sitejabber.com/reviews/anyoption.com
May 2nd, 2016
Never make deposit. It is impossible to withdraw your profit If you make money anyoption will close your account.The biggest cheater binary options broker on the market. They have several tools to steal the customers' money. Check out all of my videos and please share with your friends.The name of my youtube channel: anyoption scam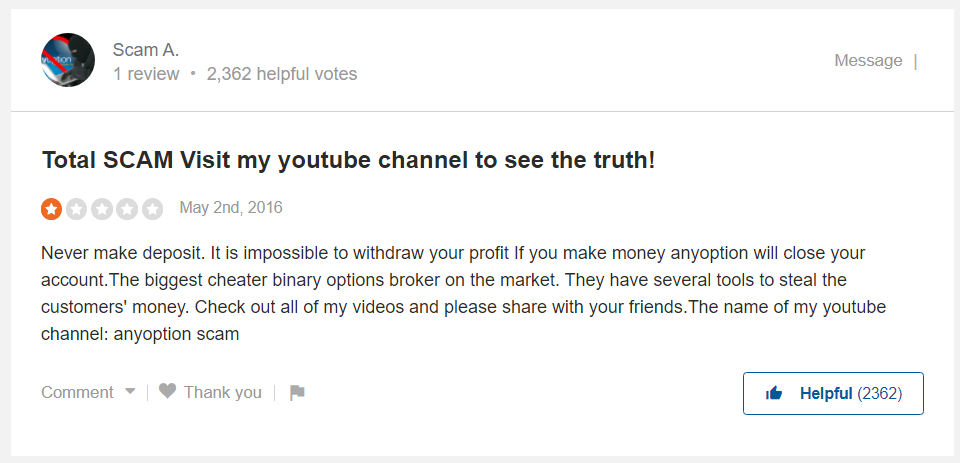 source: https://www.sitejabber.com/reviews/anyoption.com
January 21st, 2016
I traded with anyoption for for 2 years and learned how they were manipulating the platform, I managed to make some money and soon after they frizzed my account. Scam pure scam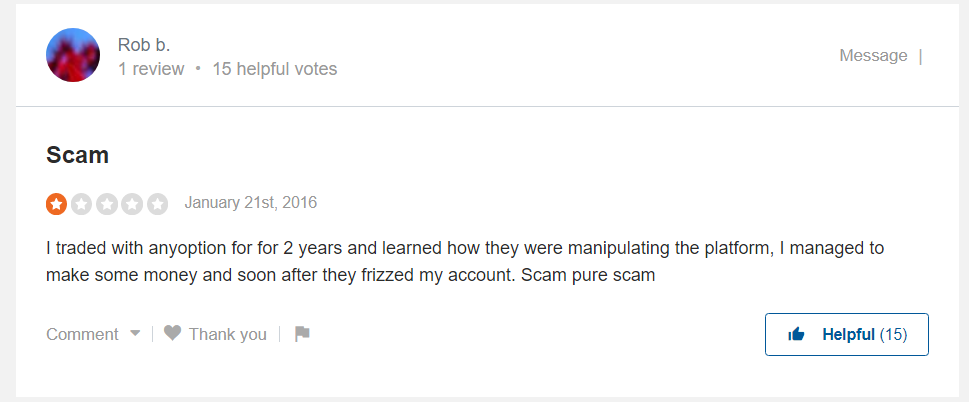 source: https://www.sitejabber.com/reviews/anyoption.com
My Conclusion & Final Thoughts on Anyoption
With Anyoption having closed their website, it's hard to think that this wasn't a scam. Sure, they had a legit business license and they were set up and had a trading platform but with the negative reviews and the fact that they are no longer in business… it's hard to think that it wasn't.
At any rate, as they are now out of business we won't know for sure.
Anyoption Alternatives
With Anyoption having closed operations (which may be for the best) it's best to look for alternatives.
If you're looking for trade alerts, I recommend checking out The Empirical Collective as they offer way more value than any of their competitors.
But if you're looking for actual investment platforms, I recommend that you check these out.
Originally known as Fidelity Management & Research or FMR, Fidelity Investments is a Boston, Massachusetts-based American international financial services firm. With $4.5 trillion in assets under management as of December 2021, the company, founded in 1946, is one of the largest asset managers in the world. Fidelity Investments runs a brokerage, manages a sizable family of mutual funds, offers fund distribution and investment advice, retirement services, index funds, wealth management, securities execution and clearance, asset custody, and life insurance.
Pros
Commission-free stock, ETF and options trades.
Large selection of research providers.
Strong customer service.
Expense-ratio-free index funds.
Highly rated mobile app.
Cons
No access to futures, commodities, or crypto trading
Accounts are restricted to the U.S. and main island residents
High broker-assisted trading fees
Options fees higher than competitors
TD Ameritrade is an American online broker based in Omaha, Nebraska. The company offers services for individuals and institutions that invest online. It has over 11 million clients and more than $1 trillion in assets under management. TD Ameritrade is a subsidiary of the Toronto-Dominion Bank.
The company was founded in 1971 as First Omaha Securities, Inc. by Joe Ricketts. TD Ameritrade Holding Corporation was created in 1996 when Ameritrade acquired Waterhouse Discount Brokerage. In 2006, Ameritrade acquired TD Waterhouse from Toronto-Dominion Bank for $3 billion. The company then took on the name TD Ameritrade. TD Ameritrade offers trading in stocks, bonds, mutual funds, ETFs, options, futures, and forex. The company also provides retirement planning and investment advice to its clients.
Pros
Wide range of educational content available in many different formats
Expansive trading tools and resources for all types of investors
Well-designed mobile app and website
Excellent client support
Cons
Pricing: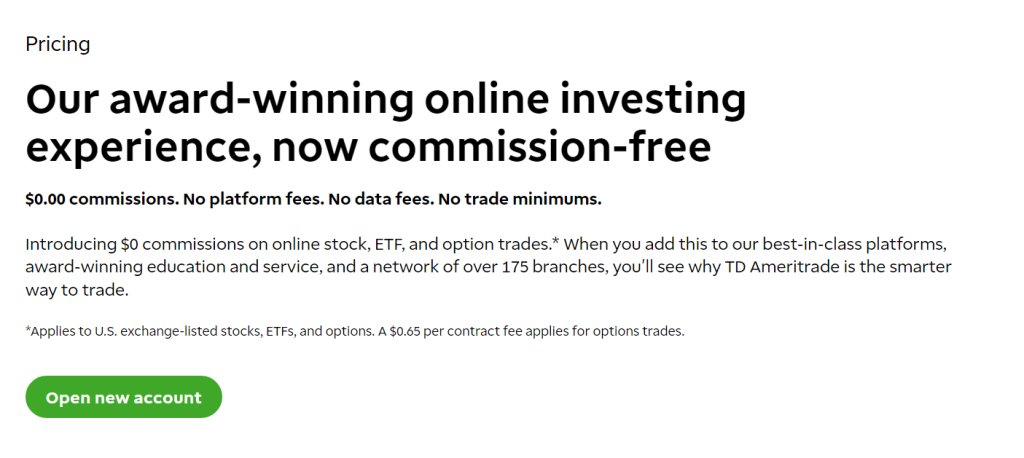 Interactive Brokers is an online brokerage firm that offers its customers a wide variety of investment options. The company was founded in 1977 and is headquartered in Greenwich, Connecticut. Interactive Brokers offers its customers access to more than 120 markets worldwide. The company also provides trading technology and execution services to professional traders, hedge funds, and institutional investors.
Pros
Low margin rates
Robust trading platform
Commission-free trading
No-transaction-fee mutual funds
Cons
IBKR's SmartRouter not available to IBKR Lite clients
Can be intimidating to less experienced and less active investors
Tastyworks is an online broker that specializes in options trading. It was founded in 2016 by the same team that created thinkorswim, which was later sold to TD Ameritrade.
Tastyworks has a unique fee structure and trading platform. Its commission-free trading model is based on per-contract pricing, and it offers a variety of innovative features aimed at helping traders execute complex options strategies. Despite its relatively young age, tastyworks has quickly become a favorite among options traders, thanks to its low fees and user-friendly platform.
Pros
Huge library of resources and educational content
Fully customizable trading experience
Advanced tools uniquely built for the options trader
Cons
Limited product selection
Few deposit and withdrawal options
No demo account
Pricing: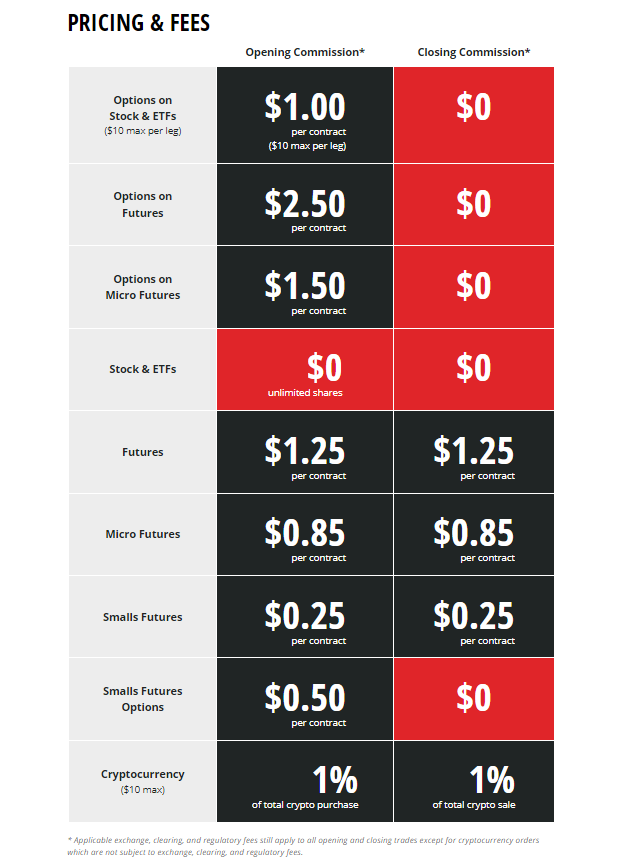 Frequently Asked Questions
Signs of scam broker?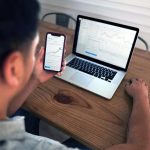 When it comes to online trading, there are a lot of things that can go wrong. You could end up losing money if you don't know what you're doing, or if you're not careful. And, of course, there's always the possibility that you could be scammed.
So how can you tell if a broker is a scammer? Here are some signs to watch out for:
The broker doesn't have a good reputation. If you've never heard of the broker before, or if you've heard bad things about them, then it's probably best to stay away.
The broker is promising guaranteed profits. No one can guarantee profits in the stock market, so this is a huge red flag.
The broker is pressuring you to deposit money right away.
What are deposit options?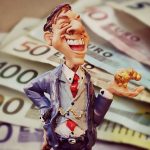 Deposit options are important for anyone who is looking to save money. There are many different options available, and each has its own set of pros and cons. Here are some of the most popular deposit options:
Savings accounts: A savings account is a great option for anyone who wants to earn interest on their deposits. The downside is that savings accounts typically have low interest rates and require a minimum balance.
Certificates of deposit: A certificate of deposit (CD) is a good option for anyone who wants to earn higher interest rates than a savings account. The downside is that CDs typically have early withdrawal penalties.
Money market accounts: A money market account is a good option for anyone who wants to earn higher interest rates than a savings account and has a larger amount of money to deposit.
What are some withdrawal options in trading?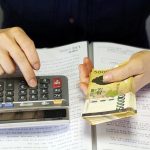 When it comes to trading, there are a few different withdrawal options available to traders. These include:
Bank wire transfer: This is one of the most common methods used to withdraw funds from a trading account. The process is simple and straightforward, and can be done online or over the phone.
Check: Another popular method for withdrawing funds from a trading account is through a check. This can be done either by mail or in person, and usually takes a few days to process.
Credit/debit card: Some brokers also offer the option to withdraw funds from a trading account using a credit or debit card. This is usually the quickest way to get your money out of an account, but it may come with some fees.
What are customer options?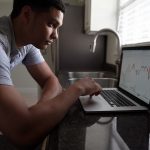 In customer options trading, the customer is given the opportunity to trade options through a brokerage. This type of trading allows the customer to speculate on the future price of a security, without having to own the underlying security. Customers can use options to hedge their portfolios or to speculate on the direction of the market.
What is the importance of a recovery firm in options trading?
When it comes to options trading, losses are inevitable. Even the most experienced and successful investors will experience losses at some point. Recovery firms exist to help investors recover from these losses and get back on track.
There are many different services that recovery firms offer. Some firms specialize in helping investors recover from specific types of losses, while others provide more general services. No matter what type of service a firm offers, its ultimate goal is to help investors get back on track and start making money again.
Which is the best binary option trading platform?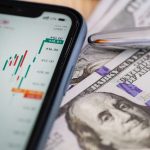 When it comes to choosing a binary option trading platform, there are many things to consider. The best option trading alert service provider will offer some important factors to keep in mind when making your decision. Here are some important factors to keep in mind when making your decision:
Ease of use: The platform should be easy to use and navigate.
Charting and analysis tools: The platform should offer robust charting and analysis tools to help you make informed trading decisions.
Customer service: In case you need help or have questions, the platform's customer service should be responsive and helpful.
Prices: Make sure to compare prices between different platforms before making your final decision.
Bonuses and promotions: Some platforms offer bonuses or promotions which can give you an edge when starting out.
Is Tasty works good for day trading?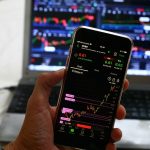 When it comes to day trading, Tasty works is a tool that can help you make money. It has a user-friendly platform and offers a variety of features that can be helpful for day traders. However, there are also some drawbacks to using Tasty works. For example, it doesn't offer much in terms of customer support or educational resources. Additionally, its fees can be high for some traders. Overall, Tasty works can be a helpful tool for day traders. However, it's important to weigh the pros and cons before using it to trade stocks.
Can anyone use Interactive Brokers?
Why is IBKR so cheap?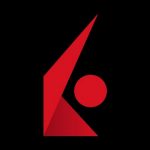 There are a number of reasons why IBKR shares are cheaper than most other brokerages. For one, the company is much smaller than its competitors. This gives it less buying power and limits its ability to offer certain services. Additionally, IBKR is a discount broker that doesn't provide the same level of research and analysis as full-service firms. Finally, the company's business model is focused on providing low-cost trading for active investors, which puts it at a lower price point than many other brokers.