If you've got a smartphone and have been looking for a unique side hustle, you can now get paid to take pictures for Google!
With the high technology found in smartphones and prices dropping on high-quality digital cameras, almost anyone with an artistic eye can create great pictures.
It's come to the point where you can take pictures on your phone that are good enough to sell.
So if you have an eye for what makes a good photo, websites have buyers who are willing to pay for your art.
The nice thing about this side gig is that the buying pool isn't limited.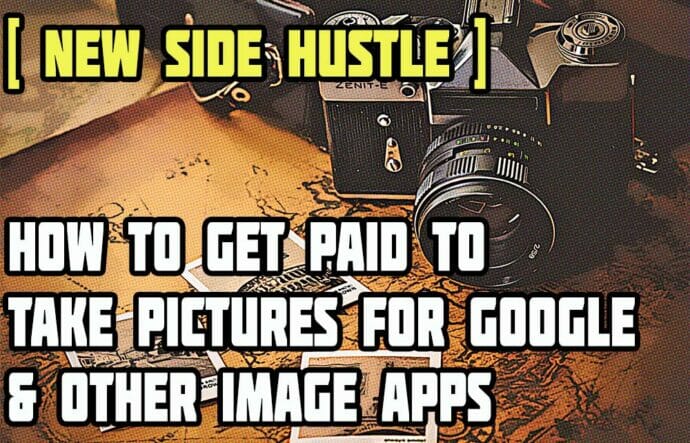 There are tonnes of websites and apps that let you sell the photos you take. You can sell them as stock photos or modify them into original works of art. So you've got several different options in terms of the content you can produce.
So without further ado, let's look into a few of the different ways that you can get paid.
How to Make Money with Photography
How to Get Paid to Take Pictures for Google
When Google released the app Task Mate, it wanted you to help train its photo algorithm for free.
Now it's morphed into a more interesting opportunity: where people can get paid for doing simple.
You can get paid for taking surveys, recording conversations or shooting photos.
And Task Mate offers both fields (tasks you do outside "in the field") and sitting (where you can be inside your home). So between those two options, there are many different ways to get paid.
The new website will provide easy access via an online storefront in which users can upload their images or videos onto one page.
Buyers can then browse through these items until they find what they're looking for.
While Google pays for these tasks, the rate isn't very high. Judging by screenshots, you'll get $0.2 per spoken sentence and about five cents for transcribing about ten sentences.
As the program is still in beta, there's no information on how much fieldwork like taking photos is worth at the moment.
The EyeEm Review
EyeEm is an online community for photographers, comparable to 500px or Flickr. The site started as a mobile application but can now be accessed by desktop computers with Adobe Air runtime environment installed, so you don't need special software!
It's just like any other "usual" microstock site, except you can't just sign up and immediately start posting photos. It is more of a "community" site than a marketplace.
But as the site grew, it's no surprise that the company behind EyeEm saw a need for its marketplace. The addition of a market created new opportunities where clients could license photos, and creators could sell them on an open platform. They've even incorporated innovative distribution methods like partnering at microstock websites like Adobe & Getty to leverage their large customer bases.
What Makes EyeEm Unique?
For starters, they're laid out like more of a social media blog as opposed to a microstock site, and as soon as you enter the site, you see that their content isn't made up of "the usual" stock looking photos.
The missions on EyeEm are pretty unique as well.
The missions are like a photo competition, except their partners propose a contest based on the photoshoot they need.
Another unique feature is the AI they use.
With their AI system, EyeEm is on the cutting edge of technology. The company's in house developed software helps tag your photos after upload and suggests the best commercial options for customers with a simple interface that works anywhere – not just online or via mobile app!
The EyeEm Contributor Review
EyeEm doesn't have a contributor review process. They accept submissions from anyone.
But they do have some rules that have to be followed:
no absolute trash (everything submitted has been approved by Eyeem)
flare/noisy photographs are not allowed due to the technical issues these types of images may cause when viewing on Screen X or Y;
blurriness beyond what would naturally occur during action shots isn't acceptable either because this could reflect poorly upon both
buyer expectations as well as seller accountability.
EyeEm Review Time
While signing up and submitting images is very fast, the content review process can take three days up to a couple of weeks.
It takes so long because the submission has to be scanned by their AI and then manually reviewed.
EyeEm Payment – How Much Will You Get?
They've recently gone to a percentage-based revenue sharing model based on the last 12 months of the revenue you have generated.
It's laid out as follows:
$0-$299 – 25% License share
$300-$2999 -35% License share
$3000-$6999 45% License share
$7000+55% – License share
You can visit their website for more information here.
Here's How Foap Reviews
Foap is another app where you can easily sell your photos online.
The app is available on Android or IOS systems. Consumers can buy images from these photographers to use in marketing materials like blog posts that advertise products or services or purchase them for personal use.
Companies can commission a certain photo to be taken by setting up a mission. (It's a brief assignment.)
The Foap app is a simple way to buy and sell images. Customers pay $10 for an image, which grants them a license, while the creator gets half of that price — $5 per photo!
The only downside is that when you sell your photo, the buyer has commercial rights.
The Foap app has pretty good reviews on the app stores, and it's been gaining popularity.
With that said, some users have complained about the uploading speed and errors. Foap is quick to respond with solutions for these problems while reminding customers that reinstalling it on your phone can solve many issues they're experiencing.
Overall, Foap looks to be a pretty good app.
You can see more at their site here.
Here's How Snapwire Reviews
On Snapwire, companies request certain projects that any photographer may join. They lay out what kind of photography they're looking for, what sort of turnaround time they need, as well as set the price.
As submissions come in, the company (client) nominates photos to show other photographers what they like. Other photographers then have a visual guideline of what the client is looking for.
In the end, the client chooses the image they like and pays the winning photographer.
They do have a marketplace where you can sell other pictures you've taken, and you can also sell images straight from your portfolio.
How Much Can You Make On Snapwire?
Photographers who have a Snapwire account can participate in Challenges or Requests that offer varying amounts for successful completion.
Photographers also can sell their stock photos through this platform, and prices vary depending on size and quality. Generally speaking, pricing runs anywhere between $5-$50 per image.
For the most part, the Requests and Challenges pay a premium, but to get any money, you have to win the challenge.
As for the commission you make, you typically get 50% for any images sold in the marketplace or your portfolio.
Challenges have payouts around the 70% range.
How Do You Get Noticed on Snapwire?
Snapwire is a social platform that offers creative professionals the opportunity to level up by completing projects.
As the photographer's level increases, they get better visibility, are invited more often to requests and may even be commissioned for a certain task.
The Final Thoughts for the Snapwire Review
Snapwire is a platform made specifically for photographers.
Everything is laid out visually, and it features a lot of talent.
With that being the case, unless you're fairly talented, you might find it tough to get noticed.
It's where many pros hang out, making it a competitive atmosphere.
So if you're just looking to make a couple of extra bucks on the side, this probably isn't for you.
You can see more at their official website here.
The miPic Review
MiPic is probably the easiest and fastest way to make money from your photos.
Just snap a pic, upload it into your profile from the app, and they handle everything.
They promote it, print, ship & deal with any customer service from the photos you sell.
They even check the resolution of your picture and only display the ones which will print well, to make sure customers are happy with their purchase.
Of course, all this convenience comes at a cost, as miPic keeps 80% of the sales price. (Leaving you with the remaining 20%.)
But, for not having to deal with any after-sales processes (and having someone else promote it for you), it might be a perfect fit for your next side gig.
Of course, customers can add your image to other merch (so you get commission on various printables – not just the image itself), so you've got other sales options beyond just the image.
A Quick Shutterstock com Review
Shutterstock is a great website to start with – regardless of your experience level.
The site has so many benefits, one being that every picture uploaded can be seen by thousands of people, which makes it more likely someone will buy your pictures!
Another great feature about Shutterstock is its easy to use the app.
Their easy-to-use app is available for any smartphone and will even provide Shutterstock contributor tips to give you a heads up on what kind of images customers are looking for.
The type of customer downloading your photo will affect how much you earn. For example, you'll earn less from someone who is a monthly subscriber instead of an individual buying it directly from Shutterstock.
Of course, if the customer buys your image with a commercial license, you'll earn a larger amount. So "how" the customer uses your image will factor into how much you make as well.
But as your earnings for the year increase, the royalty (license) percentage you get from each sale will also increase. And just how much falls under the revenue tiers they have set up.
You can see Shutterstock's site here.
Adobe Stock
Adobe Stock is a great website to upload photographs. Once uploaded, your pictures can be seen by THOUSANDS of people.
The best thing about Adobe stock? If you become an adobe stock contributor, they payout 33% of the original price.
Because of this, you're likely to might make more money than if you were selling through other photo-sharing platforms.
You can visit their website here.
The Snapped4U Reviews
Snapped4U is the perfect stock photography website for event photographers. They only want pictures taken at weddings, concerts, and other events to be sold on their site – so you can make money with your special event snaps!
All it takes are a few uploads of high-quality photos, set their prices, and Snapped4u sells & delivers them.
They have a 10% sales commission on pics you price over $5 and take a flat rate of 50 cents for each pic under that.
Click here for more on Snapped4U
The Getty / iStock Review
Getty Images is one of the best websites to sell high-quality photos and video, but it's not easy.
To apply, you must submit an application that their team will review in about 30 days.
But once you're in, you'll be promoting your pictures on a website that has over one and a half MILLION users.
In exchange for access & the ability to sell to these users, you'll receive royalty rates between 15% – 45%.
You can find iStock photos here and Getty Images here.
The Key to Getting Top Dollar: Selling Your Photos As Art
If you're able to add extra value to a standard product by adding a unique twist, you'll be able to charge more for it.
So with that in mind, if you've got some graphics or editing experience, you can turn your photos into art and sell them on one of these marketplaces.
Esty
Selling photos on Etsy is one of the best ways to get them out there and make some money. With just a $0.20 listing fee per item, you can start selling your art quickly.
Once they start selling, they take an 8% fee (5% commission + 3% processing fee) and another 25 cents.
But all the people who frequent their site are looking for unique items – and are willing to pay a premium for them.
Fotomoto
Fotomoto is a service that prints and ships photos for you. It's great if you want to set up a website where customers can order the images as they please: on canvas or even postcards!
They aren't a marketplace but more of a print-on-demand delivery platform, where they take care of the business behind the scenes and let you focus on creating art.
The amount you pay depends on the membership you sign up for.
The free membership option will cost you 22% per picture.
The pro membership will cost you 12% per picture, and $10 per month, while the pro plus membership will cost you 10% and $25 per month.
Of course, each membership option will have additional benefits that come along with it, but those are the percentages you'll be paying.
You can see more details on their website here.
Society6
Society6 is a website that allows you to sell your photos as products. You upload the photo, choose an item (like coffee mugs or mousepads), and Society6 handles all of the shipping for you!
Artists earn 10%.
I know this may not seem like much.
But there isn't much you have to do beyond signing up and creating your art with this print-on-demand company working for you.
Click here to check out Society6.
Here's What You Need to Get Started
You don't need much to get started with this side gig.
You probably already have a smartphone, which will get you started. (You can always upgrade or get a more expensive camera later.)
Aside from that, having some kind of editing software definitely helps.
Here are a few of the more popular options for editing images with that in mind.
Adobe Photoshop
Adobe Photoshop is the most popular photo editing software.
You can easily turn even a boring photo into a masterful work of art with it. The creative possibilities are endless!
But this comes with a price – $20/month or more depending on your needs (the full version costs).
They do have a lower-priced option for photographers for only $10 a month, but this version has a lot fewer features as a result.
You can check out Photoshop here.
Pixlr
If Photoshop isn't in your price range, you may want to consider Pixlr.
You can use their web app for free, and there's no need to download anything.
With tools like colour correction and resizing along with some more advanced ones like blurring, this online photo editor has everything that you'll ever need to do basic edits.
If the free version isn't enough, you can always try out their pro version. It offers extra benefits (increased editing abilities, templates, stock images, etc.), and it costs $5 per month.
Affinity Photo
Affinity Photo offers a range of editing features rare in any program, including liquify effects, layering, advanced retouching tools and many more.
The desktop software is $49, and the iPad version is just $19 with more powerful capabilities like 360° image manipulation.
This may be one of your best options if you don't want the ongoing monthly expenses associated with most editing software.
You can check out Affinity here.
To Get Paid to Take Pictures for Google & Other Apps Can Be a Cash-Rich Side Hustle
Of course, that's only true for a certain type of person.
But If you've got an artistic side and already have a smartphone and some editing software, this might just be a perfect side gig for you.
And with many of the marketplaces I reviewed above, all you have to focus on is producing great images – leaving the rest to them.
x

The Armored Car's Doors Opened & The Cash Started Pouring Out…
Bedlam ensued.
People on the freeway slammed on the brakes as they jumped out to collect the cash.
A door had popped open as an armored truck was on its way to unload the money for the day.
The freeway was at a dead stop, as people cased after the dollar bills billowing about.
Seem a bit far fetched?
Well, this actually happened to an armored car transporting money from San Diego to a Federal Deposit Insurance Corp. office in Los Angeles in 2021.(Ref)
Not seeing the rain of dollar bills as a stroke of serendipity, the FBI said that anyone grabbing the money was stealing.
The FBI got some video from the event and used facial recognition technology to figure out who ran off with the cash.
But free money like this is everybody's dream isn't it?
The kind of easy money where all we have to do is stop and scoop it up.
Unfortunately, money doesn't come to us like that.
We have to work for most of our money.
Which is why it's nice when an easy option to make money comes along.
I feel that getting paid to take pictures with your smartphone is kinda like the armored truck story.
Sure, you might not get as much money as the people fighting over armfuls of cash… but you also won't end up in jail either.
And getting this money doesn't require a lot of effort, expensive equipment or years of training.
Which is why I thought the side hustle that I wrote about in the article, How to Get Paid to Take Pictures for Google & Other Image Apps" was pretty unique & worth taking a closer look at.
I hope this side hustle idea helps & that you have an incredible day!
Your Minister of Capitalism,
Brett Davison
[wptpa id="4″]
Get Hedge Find Beating Options Trades Delivered to Your Inbox!
Tired of missing out on the huge gains in the market?
Wishing you knew which trades had the best odds of succeeding?
Would you like to know EXACTLY how & which trades to place WITHOUT having to spend years learning?
Well now you can let our Team of Trading Experts & Exclusive AI Trading Software do the work for you!
PS – Our trades have an average win rate around 94% and have returned QUADRUPLE digit yearly returns.
---
When people used the term "get paid to take pictures for google", they often wanted answers to these questions as well:
How can I get paid for taking pictures?
If you don't want to work with anyone, your only choice is to create an online portfolio and sell the images yourself. This is known as microstock photography. The agencies like Dreamstime and Shutterstock represent a lot of stock photographers, and they pay on average $1-2 per image download.
You can even get exposure to millions of shoppers through these guys while making a good amount of money.
That said, most people make more money by working for clients like other photographers or magazines.
But there are quite a few money-making options available if you're interested in photography.
How do Google photos earn money?
Contrary to popular belief, Google Photos did not earn money by charging for subscriptions. They did it through their partnership with Wal-Mart Photo Department Store.
Google partnered with the Wal-Mart Photo Department Store to integrate its photo printing service into the retail chain's photo kiosks. They did this to expand into new markets for their cloud service.
Wal-Mart shoppers can upload the photos on their phone through Google's photo app and then get prints of them made right there in the Wal-Mart store or at home via a local Wal-Mart delivery service company called EasyCanvasPrints.
How can I work for Google as a photographer?
Yes, you can work for Google as a photographer! You just need to sign up for Task Mate and follow the steps we went over above.
What is ClickASnap?
ClickASnap allows you to take and share a picture of anything.
And, in case you're wondering, it can be used as an alternative app for adding pictures to your Instagram feed.
Where can I upload my photos and get paid?
There are a lot of great photos stock websites out there, but make sure you do the research before you jump on board. It can be easy to upload copyrighted photos without realizing it, and that's very bad for you. Some sites may also request access to your private data or post ads alongside your content.
So first things first- check out the copyright policy. If it doesn't specify what counts as copyright infringement, chances are they're just looking to exploit any free labour they possibly can. The second thing to investigate is the payment options. If all payments go through their affiliated networks or affiliates, this could affect how much money you get for your work.
Do I have to pay for Google Street View?
Yes. You have to pay for Google Street View, but it's worth it!
The price is currently $1.99-149 per month, depending on how much "mapping data" you want to view in detail. If you'd rather, you can purchase a yearly membership for $199.
Setup costs may also apply depending on where this mapping data is sourced (i.e., satellite maps).
What kind of photos sells the most?
The photos that sell the most are babies playing with their family members. A picture of a baby using a toy to playfully interact with an older sibling can have as many as eighty thousand views per day, and if taken correctly, will more than pay for itself within the first week alone!
A good rule is to keep these things in mind when setting up a photoshoot:
A neutral background will help any image stand out without being too distracting
A smile always wins major points from viewers
Image resolution makes all the difference, meaning you need a high-quality camera and editing tools to properly capture the moment. Just make sure that you're shooting with a DSLR camera rather than an old cheap camera.