Commodities Skyrocketing: Trading on Wheat Halted
With the continuation of Russia's war on Ukraine, commodity prices are hitting their highest levels since 2008.
Wheat prices soared to their highest levels in more than a decade on Tuesday, as traders worried about global supply disruptions as Russia's invasion of Ukraine progressed.
Wheat futures hit a high of 984 cents a bushel on Tuesday, the highest level since April 4, 2008, when wheat hit a high of 985.5 cents per bushel.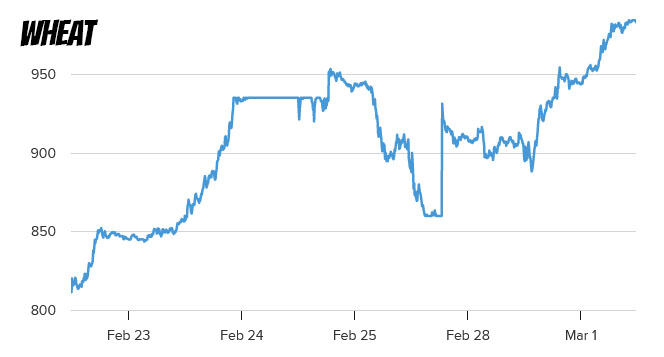 The grain was traded "limit up," which refers to the maximum amount a commodity's price can rise in a single day. Wheat was trading at 982.75 cents per bushel at 8:44 a.m. ET, up 5.22 percent.
According to JPMorgan, Russia is the world's largest exporter of wheat, with Ukraine being among the top four.
According to Bank of America, 17 percent of the 207-million-ton worldwide wheat trade comes from Russia, while 12 percent comes from Ukraine.
In a Feb. 14 note, JPMorgan's Marko Kolanovic said, "Wheat and corn are the most susceptible agriculture commodities to any possible increase in hostilities."
Corn futures also touched a high of 724.5 cents per bushel on Tuesday, the most since May. Corn futures last traded at 721.75 cents a bushel, up 4.49 percent, after trading was suspended.
Russia's war on Ukraine has sparked huge price increases in the commodities markets, after having been virtually dormant for decades.
To see commodities halted for hitting the limit up stop is incredibly rare and will add even more fuel to the inflationary fire we've already begun to see.
Trades Delivered Designed for Discerning Professionals
Tired of missing out on the huge gains in the market?
Wishing you knew which trades had the best odds of succeeding?
Would you like to know EXACTLY how & which trades to place WITHOUT having to spend years learning?
Well now you can let our Team of Trading Experts & Exclusive AI Trading Software do the work for you!
PS – Our trades have returned QUADRUPLE digit yearly returns.