As the Russian military rolls closer to

Kyiv

,
crude and natural gas spike to eye watering levels as the world fears a supply shock.
On Wednesday, as Russia's increasing military assault in Ukraine raised fears of a supply shock, global crude oil prices soared to more than $110 per barrel and natural gas prices soared to a new high in Europe.
Brent oil futures, the worldwide benchmark, increased by over 9% to $113.65 per barrel, the highest since 2014. Oil futures in the United States rose more than 8% to $112.25 a barrel. Wholesale natural gas prices in Europe soared by 60% to a record high of €194 ($215) per megawatt hour.
This is more than double what it was on Friday.
Louise Dickson, senior oil market analyst at Rystad Energy, stated, "The market fear is here. The first higher price reaction following the commencement of the crisis in Ukraine six days ago is just becoming stronger."
Western sanctions imposed in the aftermath of the invasion of Ukraine have not directly affected Russia's energy resources. However, if Russia continues its offensive, the US and Europe may be forced to play this major card.
On Wednesday, White House press secretary Jen Psaki told CNN, "It's still on the table, it's not off the table."
President Joe Biden, on the other hand, does not want to "topple the global oil markets or the global marketplace, or harm the American people more with increased energy and gas costs," according to her.
Moscow is already finding it more difficult to sell supplies of Russian crude oil to merchants and refineries concerned about getting caught in the crossfire of financial-system penalties. Tanker operators are apprehensive of the threat to ships in the Black Sea, and large international oil firms are abandoning operations there.
According to Commerzbank analysts, Russia's hallmark Urals oil grade was selling at a $18 per barrel discount to Brent crude on Wednesday as customers ignored Russian supplies. According to the researchers, the discount hasn't been this large since the Soviet Union's demise.
"Oil price differentials indicate a clear reticence to buy Russian crude," said Shin Kim, head of oil supply and production research at S&P Global Commodity Insights. "There remains to be [a] danger of new sanctions that might indirectly or directly damage oil purchases or supplies."
Despite efforts by the West to calm markets, the enormous price increases risk stoking already high global inflation. The United States and 30 other International Energy Agency members approved the release of 60 million barrels of emergency oil reserves on Tuesday, enough to replace about two weeks of Russian oil supplies.
"In the end, this will not be enough to calm the market. It's a band-aid approach, to be sure." RBC Capital Markets managing director of global energy strategy Michael Tran said.
Fuel will become more costly throughout the world as a result of the massive price hikes, raising the cost of travel and commuting. They will also raise inflation and may slow economic development, making choices by global central banks to combat increasing prices more difficult.
Investors fear that as a result of the crisis in Ukraine — a critical pipeline route, more Western sanctions that might target Russia's economy, or retaliation by Moscow — Russian energy exports could be reduced or terminated.
"Buyer interest in Russian oil is dwindling," according to Commerzbank analysts. "An interruption of Russian oil shipments looks to be increasingly priced in," they noted.
According to Alex Froley, a market analyst with Independent Commodity Intelligence Services, Russian natural gas is still flowing to Europe. However, he stated that there is "a lot of ambiguity and fear about how things may evolve."
According to Froley, the United Kingdom has blocked Russian-owned and controlled ships from entering British ports, potentially disrupting liquefied natural gas supplies from Russia, which account for between 3% and 4% of the country's gas supply.
"Traders may be apprehensive if continental Europe follows suit and imposes a similar embargo on Russian ships," he warned.
OPEC Sitting On Their Hands
On Wednesday, the Organization of Petroleum Exporting Countries (OPEC) and its allies, including Russia, decided to adhere to their plan of gradually adding oil to the market, despite demand from developed nations to do more to lower prices.
In a statement, the Saudi-led group OPEC said it will boost supply by 400,000 barrels per day in April, a small fraction of Russia's 10 million barrels per day crude oil output.
"Recent oil market fundamentals and consensus on its forecast pointed to a well-balanced market, and current volatility is triggered by current geopolitical developments rather than changes in market fundamentals," OPEC stated.
More Iranian barrels might be put on the market as a result of nuclear talks between Iran and the US, but this would not help the situation in the short term.
Toxic Investment: The Exodus From Russia
Many of the world's largest oil firms are pulling out of Russia or deferring new investments in exploration and development projects.
ExxonMobil said on Tuesday that it was abandoning its last project in Russia, Sakhalin-1, which was characterized as "one of Russia's largest single international direct investments."
The project was operated by an Exxon affiliate, and the company's decision to exit Russia after more than 25 years would mark the end of the company's involvement in the country.
BP, Shell, and Norway's Equinor all said this week that they plan to quit their Russian operations, which would cost them billions of dollars. TotalEnergies, a French energy company, has ceased fresh investment.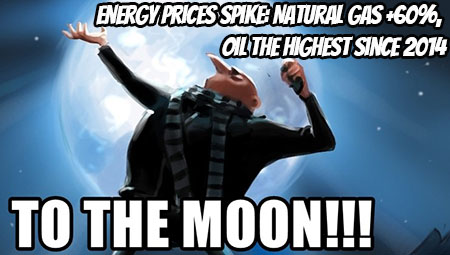 Get Hedge Fund Beating Options Trades Delivered to Your Inbox!
Tired of missing out on the huge gains in the market?
Wishing you knew which trades had the best odds of succeeding?
Would you like to know EXACTLY how & which trades to place WITHOUT having to spend years learning?
Well now you can let our Team of Trading Experts & Exclusive AI Trading Software do the work for you!