Retaliation: Will Russia Strike Back & Weaponize Oil?
Russia is on the verge of a full-fledged financial crisis
– but will it strike back against sanctions?
Sanctions imposed by the West have driven the ruble to new lows, shut down Moscow's stock exchange, and rendered Russian assets poisonous on the global arena.
The White House has even targeted Vladimir Putin's financial fortress, blocking access to at least a portion of Russia's $630 billion rainy-day reserve, which was created to cushion the economic impact of this catastrophe.
The key issue now is how Putin, who is now facing Western sanctions on his own riches, will respond in what is quickly developing into economic warfare.
There are rising fears that Putin would react by using crude oil as well as natural gas as a weapon against the West.
In a study released Monday, Louise Dickson, senior oil market analyst at Rystad Energy, said, "Russia's energy supplies are very much at danger, either owing to being withheld by Russia as a weapon or taken off the market due to sanctions."
Oil production was already falling short of demand throughout the world.
If Russia, the world's second-largest oil supplier, deliberately held back supplies, oil prices would undoubtedly increase, causing a devastating blow to consumers throughout the world.
JPMorgan has predicted that if Russia's exports are halved, oil prices will rise to $150 per barrel. That would represent an almost 41% gain from the current high of about $106 per barrel.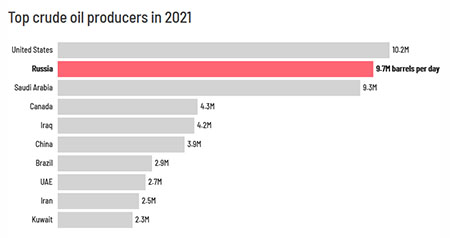 This jump would also result in a significant increase in petrol costs. According to AAA, the national average cost regular gasoline in the United States is currently $3.61 a gallon. This is an increase of 8 cents in a week and 25 cents in a month.
Even though the US consumes relatively little Russian oil — imports from Russia totaled barely 90,000 barrels per day in December — this is still a global and linked economy.
Supply shocks in one section of the world can have a global influence on pricing.
"It's a wild card whether Russia would really impede those flows to attempt to inflict pain through commodities," said Ryan Fitzmaurice, Rabobank's energy strategist. "If there are genuine supply problems, it will be the catalyst for significant price rises."
To be clear, there is no indication that Russia is cutting off the world's oil supply at this time.
And, in the aim of reducing market damage, the West has gone to great lengths to exempt Russia's energy sector from sanctions. Putin may determine that this is one weapon that should be avoided.
Russia Needs the Cash Generated from Oil Sales
It wasn't long ago that it was thought that Putin would use oil as a weapon.
Such a plan runs the danger of further enraging the rest of the globe. Worse, restricting oil exports would jeopardize Russia's petro-central economy. Between 2011 and 2020, oil and natural gas accounted for around 43% of the Russian government's yearly income.
Inflation will be worse than expected this year, according to Goldman Sachs.
The Russia-Ukraine issue, on the other hand, has swiftly intensified, resulting in the biggest schism with the West since the Cold War.
Putin's harsh posture and words have astonished onlookers, leaving some to doubt his mental soundness and raise fears about how he would respond to the new sanctions.
Putin raised eyebrows by putting his nuclear troops on high alert over the weekend. On Monday, he slammed sanctions imposed by the "empire of lies," as he put it.
Putin is also under pressure from the oligarchs who back him up. In recent days, Russian billionaires Mikhail Fridman and Oleg Deripaska defied the Kremlin and called for an end to the conflict.
Natasha Kaneva was encouraged by the fact that Russia had a long history of supplying oil reliably, even during the Cold War, and saw minimal risk of the nation weaponizing its oil exports. However, Kaneva, JPMorgan's head of global commodities research, is no longer so sure.
"I grew quite anxious after listening to Putin's address," Kaneva told CNN last week, referring to the Russian president's hour-long speech on February 21 in which he laid out a laundry list of grievances with the West. "It was a turning point for me. Everything seemed to have altered."
Investors, according to the JPMorgan executive, are underestimating the danger that Putin will weaponize oil supply.
"There is no need for any market disturbance," Kaneva added. "There are no shock absorbers in our vehicle. The price will react in a nonlinear manner."
Putin is well aware of all of this.
The fact that high fuel prices are profoundly unpopular in the US, leading to the worst inflation in nearly 40 years, isn't helping matters.
"Putin might strive to inflict severe pain on Western nations," RBC Capital Markets' Helima Croft said in a note to clients on Sunday, "and commodities prices may feel the effect of his countermeasures."
Mike Sommers, CEO of the American Petroleum Institute, an oil-and-gas trade group, did not exclude the possibility of Russia restricting oil shipments.
In a phone interview with CNN last week, Sommers said, "I do believe it's an ongoing issue, particularly as the West responds to Russia's aggressive conduct. If he decides to shut off supply, we will be concerned. In this tumultuous political context, no matter what he does, the United States will continue to create."
The White House Tells Putin NOT to Weaponize Oil
(But does telling someone NOT to do something make them more likely to do that very thing?)
Putin does not need to fully shut down the taps to punish the West. Oil markets are so tight that even a little reduction in Russian supplies might have a significant influence on pricing.
"Even if Russia decreased supplies by 10% to 20%, the price reaction would compensate Russia for the supply loss," Fitzmaurice of Rabobank said.
The White House advised Putin against taking any dramatic measures to protect his country's oil exports even before the invasion began.
"It would be a tremendous mistake if Putin decided to weaponize his energy supply," Daleep Singh, the US deputy national security advisor, said on CNBC.
As a consumer of energy, Russia is "very reliant" on the West, according to a Biden Administration official.
"For President Putin, this is a long-term weakness. If he weaponizes energy supplies, it would simply hasten Europe and the West's diversification away from Russian energy," Singh said, calling it a "huge miscalculation."
A huge miscalculation it may be, but with European & Western economies still incredibly reliant on oil, any price increases will cause immediate and far-reaching economic pain.
And with Putin backed into a corner, who knows where this will lead.
But there looks to be no relief in sight when it comes to rising costs and supply chain issues.
Get Hedge Fund Beating Options Trades
Tired of missing out on the huge gains in the market?
Wishing you knew which trades had the best odds of succeeding?
Would you like to know EXACTLY how & which trades to place WITHOUT having to spend years learning?
Well now you can let our Team of Trading Experts & Exclusive AI Trading Software do the work for you!
PS – Our trades have returned QUADRUPLE digit yearly returns.