Have you been wondering how to get a welding job?
Well as a former general manager for a welding & fabrication shop, I can help point you in the right direction.
Welders are always in demand, which means there has never been a better time to land that dream welding job!
The AWS reports an estimated 400K shortage by 2024.
This points to a perfect opportunity for your career! Below I've compiled some tips on how best to find yourself working as one of these skilful metalworkers.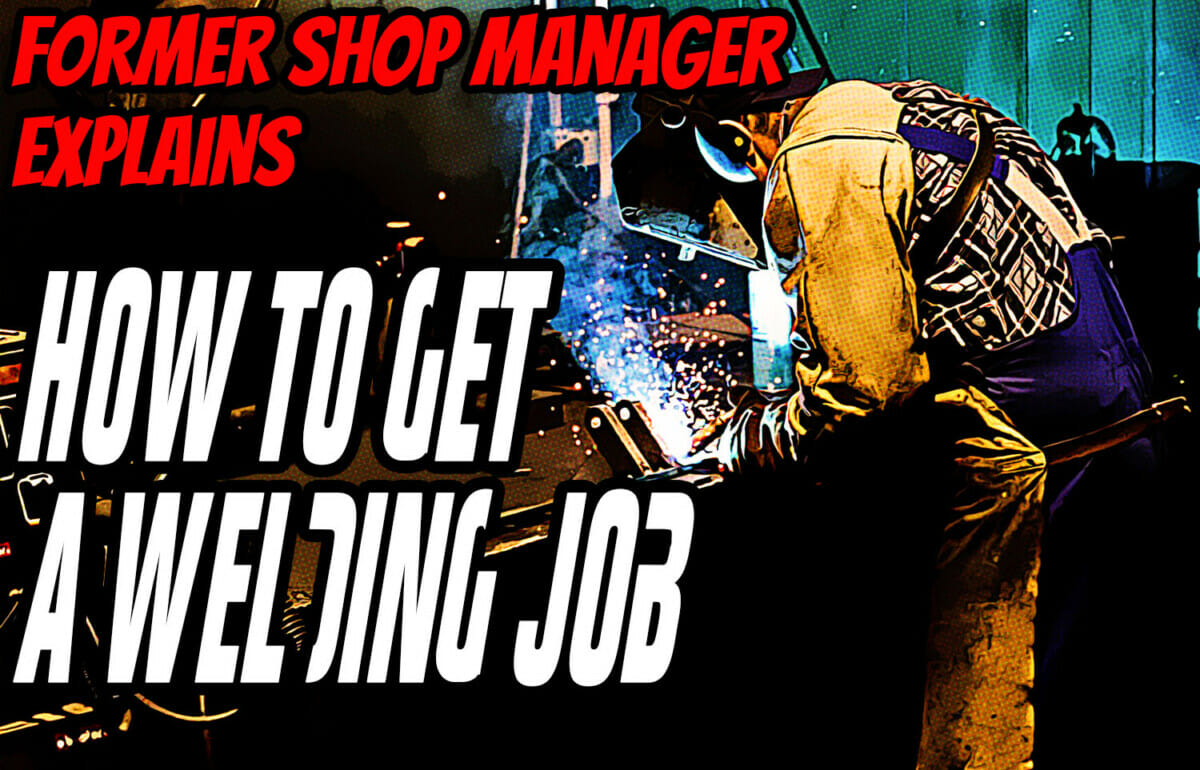 How to Get Welding Jobs for Beginners
If you're new to the industry, I've compiled a few tips to help you get hired as a welder.
In general, any employer will be looking at a few things when they're going to interview a new welder:
Certification levels and when you got them.

A good understanding of typical welding techniques as well as fabrication related tasks.

How well you perform in a hands-on welding skills test.
These three areas are what every company (regardless of size) will be looking for.
Look For a Job in the Right Places
If you're looking at the job boards for big employers, take a good look at how they've laid out the categories.
Jobs for welders can be listed under many different section or category headings like skilled trades, general labour, repair, maintenance, industrial technology, fabrication, manufacturing or construction.
Sometimes it will take a bit of investigative work.
This will be true if you look at job boards for big companies because they often have so many departments. And with more departments, it's easy for job listings to be hiding in categories that might not be immediately obvious.
Show Up at Their Shop
If you're looking for a job with a small business, this often means that you will have to visit their shop or office.
You could call first, but you'll get blown off in most cases.
It's way more effective to show up – resume in hand – and meet them.
Don't be put off if they tell you that they aren't hiring at the moment and that they'll keep your resume on file.
If they say that, politely ask them if you can follow up with them in a little while.
Try to get the owner or manager's phone number or email if possible and then call or email them every month to see if they are hiring.
Don't be a One Trick Pony.
It's essential to keep in mind that employers typically prefer welders who can do more than one type of welding.
By all means, specialize in a specific type of welding, but work on your skills to be versatile enough to where you can at least get by when performing the other processes.
A well-rounded skill set will make you a valuable asset on any job site. It will help you stand out from other applicants in the hiring process.
Learn to Weld Pipe in Different Positions
Structural and pipe welding can be challenging to learn, but they are worth the effort.
Any structural welding skills you have will set you apart from any other applicants.
And in addition to being in high demand, pipe welders often get higher-paying jobs because of their unique skill set.
Increase Your Level of Certification
Always continue to learn and develop your skillset.
If you need to get a new or different certification, then take steps toward that.
Even if you don't use the new skills often, they look incredible on a resume.
As I mentioned earlier, employers love seeing someone who can do various tasks.
If You're Still in College
Get a degree if you can. Even if it's in general studies. This will automatically move you up the list of applicants and give you a shot at better-paying jobs.

Try to pick up some part-time work at a local fabrication shop. You might even be able to start an apprenticeship by doing this. But even if you can't, you'll have some excellent experience with your resume.

If you can't do that, try getting a job at a welding supply store. You'll still be getting some related industry experience as you learn a lot about all of the consumables, parts and tools that a typical welding shop needs to buy.

Making friends and becoming liked is the key to success. If you help out on projects, it shows others that you're a team player and can lend itself to getting some excellent references.
Join a Professional Welding Network or Association
Joining a professional organization like the American Welding Society (AWS) can be an excellent way for students and recent graduates to get ahead in their field.
Membership offers discounts on some of the gear you need, and you'll be staying on top of the latest industry trends and developments.
And you'll be expanding your network in the process!
Be Willing to Relocate
Sometimes there aren't any jobs in your area.
If that's the case, you might have to consider moving to get a great job.
But even if there are jobs in your area, sometimes by relocating, you can get a better paying job if there's a shortage of welders in a specific area.
So don't limit your job search to your exact area or specific town.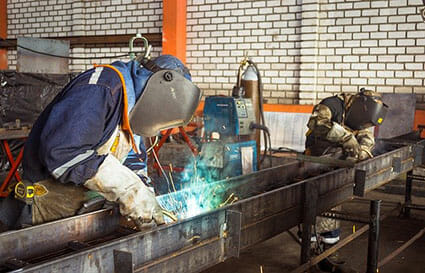 Check for Financial Assistance
If you aren't currently working, there may be programs to help cover the cost of tuition.
For example:
You could get a scholarship from one college or university that covers all or part of your educational expenses. This might even be an option for junior colleges as well.

You might also want to check with local nonprofit organizations such as job counselling centres and unemployment offices. Many have funds expressly set aside for students who need extra financial assistance.

Check with other government agencies, or your tax advisor, as sometimes some educational credits or incentives can be applied for as well.
Improve Your welding By Cheating
If you can't see what you're doing, welding is going to be nearly impossible for you.
And if that's the case, you can buy a "cheater lens" that will allow you to see things more straightforward when working inside your helmet or follow joints more easily.
You use these lenses as an insert in place of traditional glasses lenses.
They come prepacked and calibrated for certain distances.
Write a Wicked Resume
The more professional your resume is the better your chance of getting hired and advancing in a company.
A formal resume should be divided into five sections:
Objective

 (tell them what kind of welding job you're applying for and why you want to work with them)

Education

 (most recent Certification, Degree, Certificate, or Diploma. List your GPA if you got good grades.) 

Specific Skills

 (job-specific skills as well as any other related skills)

Education

 (most recent Certification, Degree, Certificate, or Diploma. List your GPA if you got good grades.) 

Experience

 (relevant skills and experience)

Personal Interests

 (hobbies or activities outside of work time) 

References

 (name, phone number of 3 references with phone numbers or email addresses under each name).
Stand Out From Other Applicants
Getting a job is all about standing out from the rest of the competition positively.
And a lot of that comes from your experience, skillset and education.
But that doesn't have to be the only way you stand out.
As I already mentioned, meeting the owner or manager of the company (and then following up with them) will help you stand out from others who only email in a resume.
But what if you can't meet them in person or they don't allow anyone to drop by and meet them?
So get creative!
What if you had a courier deliver your resume in an impressive-looking folder like this?
If you used a courier that required a signature for drop off, you can be sure you'd get noticed 🙂
Another way you could stand out is to set up a virtual portfolio of your work.
Set up a website that has pictures of work that you've done along with your resume.
If you want to take it to the next level, you could even post some videos of you in action welding.
So think… what can you do to stand out?
If You Can't Get a Job As A Welder…
In the coming decade, welding will be one of the hottest skills to have.
But what if you aren't any good at welding? Or just not quite good enough to get a job?
Consider other support positions like instructors, inspectors, sales reps, purchasers, or even a project manager.
It could open up a lot of different opportunities for you.
x
A Look Into the Cracked Mind of a Small Welding Shop's Owner
I worked as a small welding & fab shop manager for several years.
To put it mildly, it was quite the experience.
I learned a lot.
Both what to do and what not to… all based on how the business owner ran things.
He was a strange little guy.
He spent all day complaining about how much work he had to do, yet he wouldn't sit down and do any of it.
If there is such thing as a professional procrastinator – he was it.
He'd put off anything and everything that seemed like work.
So when the shop was overrun with work and needed to hire more people, he would ignore the problem.
And it would cost him thousands of dollars in missed opportunities each and every time.
In seeing this process play out repeatedly, I learned that: all business owners feel that they are busy (whether they procrastinate or not).
And if you want to get hired, you've got to be able to cut through the clutter of their busyness to get noticed.
Because unless you happen to send in a resume at the EXACT moment, they're thinking about hiring someone, it's easy to get ignored.
So if you want to get a job, there are a couple ways I recommend you go about this.
1) Meet the owner (or manager). This helps put a face to the name on your resume. Get their contact details and follow up with them from time to time. Even if they don't hire you, you will develop a contact in the industry. Show up looking neat and tidy. You don't have to wear a suit but wear clean and not ripped clothes. Also, make sure your resume looks good. Put it in a nice folder when you give it to them. You don't have to spend a lot of money, get something simple like this.
2) If you can't meet the owner, have your resume delivered by a courier. Use a courier that requires a signature to drop the package off, and again, send your resume in a nice-looking folder like these.
3) Create an online portfolio of your work. Make a simple website that has pictures & videos of your work. Be sure to include your resume and contact information there too. If you can put together a clean-looking presentation, you'll really stand out, as nobody else does this. Put the link to your online portfolio on both your resume's printed and digital copies.
Of course, the tips above are no replacement for proper skills, tickets/certifications, experiences, and references.
But the tips above WILL get you noticed.
Unless, of course, the owner is a complete racist and filters out applicants based on the ethnicity of their last name.
(Yes, I actually witnessed my old boss doing this as he said, "We don't need to worry about these resumes. Based on their last name, there will be too much of a language barrier.")
So remember: you've got to be creative when getting noticed so you can get hired.
Otherwise, your application might get ignored with how busy most owners/managers are.
Your Minister of Capitalism,
Brett Davison
[wptpa id="6″]
Get Hedge Find Beating Options Trades Delivered to Your Inbox!
Tired of missing out on the huge gains in the market?
Wishing you knew which trades had the best odds of succeeding?
Would you like to know EXACTLY how & which trades to place WITHOUT having to spend years learning?
Well now you can let our Team of Trading Experts & Exclusive AI Trading Software do the work for you!
PS – Our trades have an average win rate around 94% and have returned QUADRUPLE digit yearly returns.
---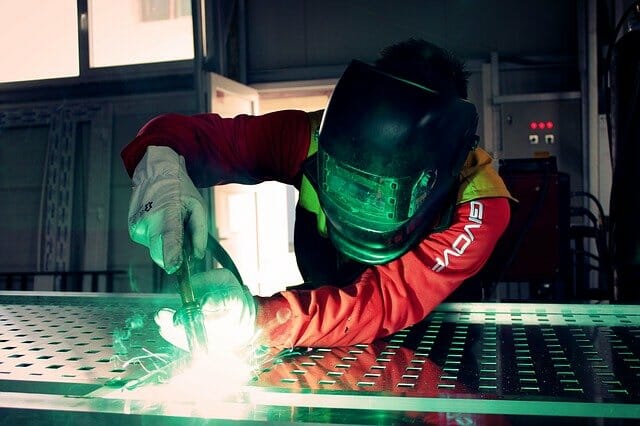 When people came searching for how to get a welding job, a lot of them had these questions too:
How do I start a welding career?
The best way to start is to enrol at a technical school that offers the proper instruction and credentials. They'll provide you with the skills and training that's needed.
Of course, if you've got an impressive skill set, you might be able to show up at a welding or fab shop and impress them with what you can do.
How do welders find jobs?
There are many sources of employment for welders, but ask yourself the following question first: "What kind of job am I qualified for?"
Suppose you do not have any formal education or qualifications in welding. In that case, you should start by finding a company that will hire you as an apprentice.
Tens of thousands of companies across industries and continents will give apprenticeships to workers with no experience. Apprenticeships teach the trade while also paying the worker's salary.
Apprenticeships usually last close to three years before someone is hired.
Can you make good money as a welder?
It is possible to make good money as a welder but only if you're willing to put in about 5-10 years of training and expertise.
It can be like any other skill in life: You invest time and energy in cultivating knowledge and improving skills, and then your income increases in return.
But many people quit after six months when it becomes clear how physically demanding they are.
What is the easiest welding job?
MIG welding. A MIG welder can weld many different materials, and the process takes less time to learn.
MIG welding is also more forgiving if you're dealing with poor fit-up due to wrong fabrication.
What is a welder salary?
For those qualified, they can make $60,000 or more annually.
Generally, the "qualified" person is a certified welder with a bit of experience who has been making a living at welding for a significant amount of time.
The work can be physically demanding and involve being around fumes and sparks, which gives the trade some safety risks.
But as there is a shortage of skilled trades, the pay may even go higher.
Of course, there might also be an opportunity to get some overtime work, increasing the pay.
Is 40 too old to become a welder?
No. You're just at the point in your career when you can make a name for yourself in this industry if you have the right skills and knowledge.
As long as you are in good health, age should not be a limiting factor in pursuing your dream.
No matter your profession or goal for the future, it is never too late!
What is the best paying welding job?
It depends on the company. Pipe welders are in high demand, so they are usually paid well. Wire welders are also in demand, but not as much as pipe welders. Other welding jobs can range anywhere from $14-$35 per hour.
Is welding a promising career?
Welding is an excellent career. The pay is high, the job outlook is excellent, and there are many opportunities to find jobs or start your own welding company.
Does welding shorten your life?
Yes, but not by a lot.
It's been reported that welding reduces life expectancy up to 20-30% in some cases. Yet, studies have reported the opposite, with no statistically significant difference between welders and non-welders in mortality rates. In these two groups of people doing the same job, there is no difference in lifespan length when the comparison is made between welders and non-welders.
This scientific opinion contradicts a clinical view because clinical investigators rarely consider risk factors related to lifestyle modifications such as smoking and alcohol consumption among groups.
How to Get a Welding Job with No Experience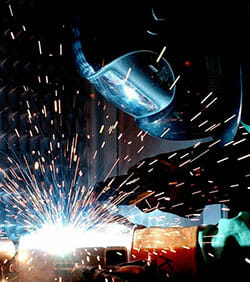 Find a school with an advanced welding program. Welders are always in demand, especially here in America. An advanced welding program will provide you with the training to complete various types of projects. You'll also learn how to use different welding machines, including MIG, TIG and Stick welders. While taking classes and getting your certification, work as much as possible at a local welder's shop. Again, this is America! Welding jobs open every minute and require no formal education or experience, which means that anyone can take these jobs without hesitation; they're high paying too!
How to Get a Welding Job After School
It could be as simple as applying to a local shop and asking if you can sign on as an apprentice or get a part-time job.
If that doesn't work, you could get training. Learn how to weld in a technical school, trade school, or community college.
A lot of it depends on the ability to make connections. Start talking with other welders at your company, searching the internet, talking with your mentors and teachers, and sending emails to people whose work you admire. People are often looking to hire, but it's hard for them to find an address list of all the qualified local talent available to work. You can be on that list!
How long Does it take to get a welding job?
It depends on the welder and what kind of welding they do. Whether it is TIG welding, MIG welding demand for each specific skill can vary.
But with a lot of demand for welders in the industry, the job prospects look excellent.
How to Get a Pipeline Welding Job
A simple solution is to find the Pipe Welding Jobs on Indeed.com!
You can also do this by looking through job boards, calling all of your connections or calling companies in the industries.
How hard is it to get a welding job?
It's hard to answer this question without knowing a little bit more about you.
What kind of experience do you have with welding? What are your strengths and weaknesses in the various aspects of welding? Are there any other jobs that interest you? In general, if someone is talented and has a lot of relevant skills, they'll have no problem getting a job with their desired qualifications.
Overall, there is a high demand for welders, so getting a job shouldn't be too difficult if you have the skills.
How to get a high paying welding job
1) Take basic and advanced welding courses at a vocational (not trade) school. Make sure you can weld and cut 2G and 3G.
2) Work for someone else while getting on-the-job experience, work on your resume, keep your nose clean, get references from former employers.
3) Apply to some of the bigger companies like Nabors (they recently expanded operations in the northeast USA), Superior Services (in Louisiana), Crane Services or Carlisle Companies. If you want something right away, apply to Superior Services. They hire people quickly, and the pay scale is high (> $100k/yr just starting).
How to get a welding job in Japan
The most common way to get a work visa is to find a company or people in Japan willing to invest time and money in you. But before they invest in you, they will be looking for specific requirements such as degrees, professional licenses, fluency, etc. Sometimes an exchange program can provide the necessary background if accepted by the authorities.
How to get a welding job in Alaska
1) You have to be 21 years or older.
2) To qualify, you'll need at least 600 hours of experience in the last five years with an AWS Certified welding inspector for gas metal arc welding (GMAW).
3) Available positions are high paying, averaging $25 per hour for experienced welders. Welding jobs are available year-round.
If you're under 18 years old and a parent won't sign off on your application form, check out other employment opportunities in Alaska.
How to get a job welding without experience
There are a couple of things you can do.
You can study welding at a vocational school, for example, the Northern Maine Technical College.
You could apprentice with a qualified welder willing to pass their skills down to someone interested in mastering this trade.
These options will give you some experience to demonstrate your competence to potential employers.
Failing that, you could apply for ANY position in a welding or fab shop and work up the ladder until you can get a job as a welder.