Russia Threatens $300/Barrel Oil if The West Cuts Energy Supplies to Russia
In response to sanctions imposed,
Russia threatens that oil could skyrocket to $300/Barrel,
effectively crushing the European economy.
If governments follow through on threats to stop buying energy from Russia, Western countries might face oil prices of over $300 per barrel and the eventual shutdown of the main Russia-Germany gas pipeline, a senior minister said on Monday.
On Monday, oil prices rose to their highest level since 2008 after US Secretary of State Antony Blinken indicated the US and its European partners were considering blocking Russian oil imports.
"It is very evident that rejecting Russian oil would have disastrous effects for the world economy," Russian Deputy Prime Minister Dmitry Rogozin said.
In a statement shown on state television, Minister Alexander Novak stated.
"The price increase would be unpredictably high. It would cost at least $300 per barrel."
According to Novak, replacing the volume of oil received from Russia would take more than a year, and Europe would have to pay much higher rates.
"European leaders must be honest in their warnings to people and consumers," Novak added.
"Go ahead and reject Russian energy supply if you want to. We're prepared for it. We know where the volumes may be redirected."
Novak said Russia, which provides 40% of Europe's gas, was fully complying with its responsibilities, but that it would be absolutely within its rights to react against the European Union after Germany blocked the Nord Stream 2 gas pipeline's certification last month.
"We have every right to take a matching decision and impose an embargo on gas pumping via the Nord Stream 1 gas pipeline in connection with… the imposing of a restriction on Nord Stream 2," Novak added.
"We haven't made such a choice yet," he remarked. "However, European politicians' words and charges against Russia drive us in that direction."
JP Morgan estimates that Russia produces 12% of the world's total supply of oil. But almost half of what Russia produces goes to Europe, verses only 3% going to the United States.
As for natural gas, Russia produces about 17% of the world supply and about 40% of that goes directly to Europe as well.
If the Russians were to cut off supply in retaliation, it would put all of Europe in an incredibly tough position.
For something less depressing, check out our base camp trading review.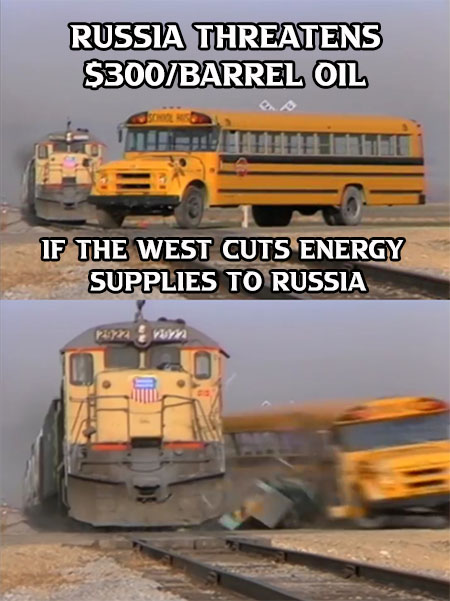 Get Hedge Fund Beating Options Trades Delivered to Your Inbox!
Tired of missing out on the huge gains in the market?
Wishing you knew which trades had the best odds of succeeding?
Would you like to know EXACTLY how & which trades to place WITHOUT having to spend years learning?
Well now you can let our Team of Trading Experts & Exclusive AI Trading Software do the work for you!