Sales funnels are an essential part of any business's marketing strategy to increase revenue and make more money. They help businesses to generate leads and convert them into customers. There are many different sales funnel builders available, each with their own advantages and disadvantages. In this article, I will compare two of the most popular sales funnel builders: ClickFunnels vs Infusionsoft. We will discuss the features of each platform, their pricing, and which one is right for your business.
Review – What is Clickfunnels?
ClickFunnels is designed to help you run a professional & high converting sales funnel. It is very user-friendly and has been designed for people that don't necessarily have any technical IT knowledge and skills. ClickFunnels aims to take the work out of managing and marketing sales funnels while allowing you to maximize their potential. It is a leading funnel software choice and is used by a wide range of different businesses. There is a free two-week trial period with ClickFunnels to get a feel for the software and to see how it works.
ClickFunnels Features and Benefits
If you're not already using ClickFunnels, you're missing out on one of the most powerful marketing tools available. Here's a look at some of the features and benefits that make ClickFunnels so powerful.
Page Builder
The ClickFunnels page builder is a great way to customize your pages without having to write code. The builder includes order forms and the ability to make sales. This makes it easy for businesses to create pages that are tailored to their needs and goals.
Order Forms
These order forms allow you to collect customer information and reduce abandoned cart rates. Order forms can be customized to include fields for customers to enter their shipping address, billing information, and payment method. This way, businesses can reduce the number of time customers spend on their website.
Membership Sites
A membership site is a website that allows members to access exclusive content or services. Membership sites usually have a subscription-based business model, where members pay a monthly or yearly fee to access the site's content.
ClickFunnels is a great tool for creating membership sites. The membership site templates are easy to customize and there is a lot of flexibility in how the membership sites can be set up. ClickFunnels makes it easy to create multiple membership sites, so it's a great option if you want to build up a portfolio of them.
Affiliate Centers
If you are an affiliate marketer, then you know the importance of having good affiliate management software. And ClickFunnels is a great option for those looking for an easy-to-use and effective tool. With ClickFunnels, you can easily track your clicks, leads, and sales. Plus, ClickFunnels provides excellent support in case you need help with anything. Overall, ClickFunnels is a great choice for affiliate marketers of all levels of experience.
However, If you're looking for an affiliate management tool, InfusionSoft is also something that you might want to consider. It's slightly more advanced than what ClickFunnels has to offer, as you can create 2-level affiliate programs.
You'll get a similar affiliate management tool from both platforms, making promoting products SO much easier.
Message Automation Tab
The Message Automation Tab in ClickFunnels allows businesses to create custom email templates with messages, images, and videos. This can automate tasks such as emailing and mailing list creation, saving businesses time and money.
A/B Split Testing
A/B split testing is a method of comparing two versions of a web page to see which one performs better. By showing half of your visitors one version and half the other, you can then measure which conversion rate is higher. Split testing can be used to test different versions of headlines, calls to action, images, and any other element on a web page.
Split testing is an important tool for optimizing website performance because it allows you to make data-driven decisions about what works best for your visitors. By constantly testing and improving your web pages, you can gradually increase your conversion rate and ultimately make more sales or generate more leads.
Webinar Hosting
Webinar hosting is a great way to host live webinars that can benefit your business. ClickFunnels has several integrations for pre-recorded webinars which can be used to sell products. Webinar hosting allows you to connect with your audience in real time and offer them valuable content that can help improve their lives or businesses. Additionally, webinars provide an excellent opportunity to build relationships with potential customers or clients.
Pros & Cons of ClickFunnels
Sales funnels are becoming increasingly popular among businesses – both big and small.
And while they offer a lot of advantages, they do have some disadvantages.
For businesses that are serious about generating leads and increasing sales, ClickFunnels is definitely worth considering.
Overall, the benefits far outweigh the drawbacks, but let's look at some of the pros and cons.
Pros
With its simple interface and user-friendly design, ClickFunnels makes building landing pages a breeze. Plus, it's one of the most affordable landing page builders on the market.
Easy to use: Landing page builders can be difficult to use, but ClickFunnels makes it easy for you with its simple yet effective design.
Affordable: Another reason why ClickFunnels is such an affordable choice is that it offers a wide range of features at an incredibly reasonable price point – perfect for small businesses and start-ups who don't have lots of money to spend on marketing tools.
Wide range of features: Not only does ClickFunnels offer a great variety of templates and designs, but it also gives you tons of extra features like email capture forms and automated lead gen forms that make your life as an entrepreneur (or business owner) much easier!
Beginner friendly: No matter what your experience level with online marketing may be, chances are you'll be able to get started with ClickFunnels in no time at all – thanks to its clear step-by-step tutorials!
Comprehensive support system: If you ever run into any problems while using Click Funnels, don't worry! The platform offers a comprehensive support system that is available 24/7.
Excellent customer service: The support team is quite good and able to help you with any issues you may have.
Good visuals: The Visual Campaign Builder is really sweet and makes creating campaigns easy. It has features that are hard to find in other marketing automation tools.
Cons
Because ClickFunnels is an all-in-one application, there is a far greater emphasis on integrating a variety of capabilities into one product than there is on depth or power.
Although the landing page builder in ClickFunnels is simple to use, the landing page builder in Infusionsoft is more potent. If you devote a large portion of your marketing budget to PPC advertising, you can feel constrained by the functionality and design possibilities it offers.
ClickFunnels Pricing
ClickFunnels offers two different pricing plans: the Standard plan and the Etison Suite plan. The Basic plan starts at $80.84 per month, while the Platinum plan starts at $247.50 per month.
Both plans come with a 14-day free trial, so you can try out the software before you commit to a paid plan. And both plans come with a full range of features, including email integration, landing pages, order forms, and more.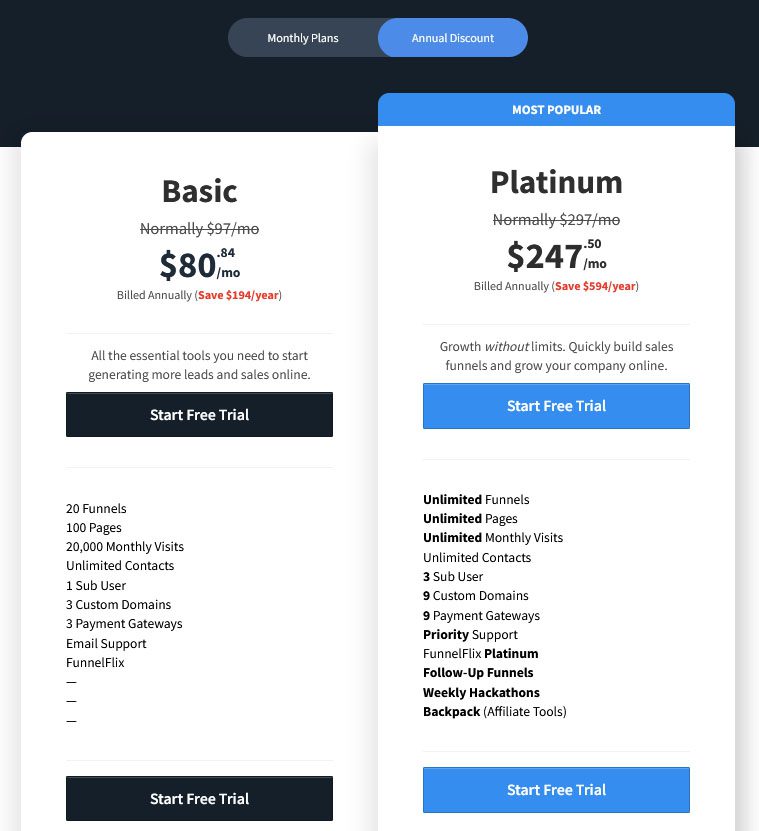 Review – What is Infusionsoft?
Infusionsoft is a powerful marketing and sales automation tool that helps small businesses automate their sales and marketing processes. Infusionsoft allows businesses to track their leads, customers, and prospects through the entire sales cycle. It also helps businesses manage their email marketing, social media, and other online marketing campaigns. In addition, Infusionsoft provides a number of features that help businesses close more deals and boost their revenue.
You can also use Infusionsoft to track your performance and progress over time, making it a valuable tool for growth and success. Additionally, Infusionsoft is a reliable solution that has been used by thousands of thriving small businesses worldwide.
Infusionsoft Features and Benefits
Infusionsoft is a powerful marketing automation platform that features a variety of features and benefits that can help businesses grow their businesses. It is a perfect solution for small businesses that want to take advantage of the latest marketing technologies without having to invest in expensive software licenses or staff expertise. Its simple user interface makes it easy for non-technical users to create powerful campaigns. Plus, its automated features make it easy to manage your marketing efforts with little effort on your part.
Customer Relationship Management
The CRM platform from Infusionsoft serves as the focal point for all marketing and sales initiatives. You may use it to segment lists, automate lead data input, sync client emails from other accounts to the appropriate contact record, and use lead scoring tools to find the best chances.
Marketing Automation
Utilize a number of marketing automation options to create effective procedures. The drag-and-drop interface makes it simple to design campaign sequences, and you can develop workflows by creating triggers depending on user actions. Moreover, A/B testing is supported.
Sales Pipeline
Sales people and managers can nurture leads as they move through the funnel thanks to the software. Custom quotations can be easily created, managed, and accepted by customers with just one click thanks to the Infusionsoft landing page by Keap app.
Online Sales
This functionality enables you to create distinctive landing pages. Drag-and-drop functionality and templates speed up and simplify the procedure. Add text and images, specify which products to feature, and add other elements. The system can also handle online payments and will automatically follow up with consumers in the order you specify.
Integrations
Numerous third-party applications that Infusionsoft integrates with expand your functionality. Magento, WooCommerce, and Shopify are some e-commerce integrations. Additionally, you can integrate the platform with a variety of other platforms, like Zendesk, WordPress, QuickBooks, Xero, Zapier, and Vimeo.
Payment Collection
This helps you to simplify the procedure to make sure that you can collect your payments on time. The system shows you which clients have paid and which still owe money. It also lets you set up automated reminders. The linked platform eliminates the need to switch between several tools. Every transaction is offered at a set rate by Infusionsoft.
Analytics
With the analytics dashboard, you can check how your sales are coming along. It monitors a variety of KPIs, including email conversions, quarterly revenue, and contacts. This helps you make decisions and offers information into every facet of your marketing and sales operations.
Pros & Cons of Infusionsoft
Pros
User interface: Infusionsoft's user interface is among the best in the marketing automation sector. Even the most complicated nurturing sequences are simple to create using their graphic campaign builder.
Excellent connection and API – You can connect Infusionsoft to hundreds of third-party products using a mix of the more than 300 apps available in the Infusionsoft Marketplace, their API, and their Zapier integration.
Excellent training and support – Infusionsoft is frequently praised for the caliber of their customer service.
Scalability – Due to the usage of universal tracking by Infusionsoft, it is simple to monitor a contact's behavior across several marketing channels.
One of the few marketing automation platforms, Infusionsoft, includes order forms, payment processing, fulfillment, and inventory tracking right inside the program.
Cons
Launch fee: Infusionsoft charges a $199 one-time, required kickstart price. Although it's helpful to have an Infusionsoft expert set up your first few campaigns, some consumers are often turned off by this upfront cost.
There are no native integrations with third-party solutions available for Infusionsoft. They do have a marketplace with more than 300 apps and extensions, however many of them involve continuing fees.
Deliverability rates – Although Infusionsoft assures clients that its deliverability rates are more than 98%, numerous user tests have revealed that Infusionsoft's deliverability isn't as strong as that of certain other programs. Additionally, some systems let you set up dedicated IP addresses for email sending, which Infusionsoft does not support.
Infusionsoft Pricing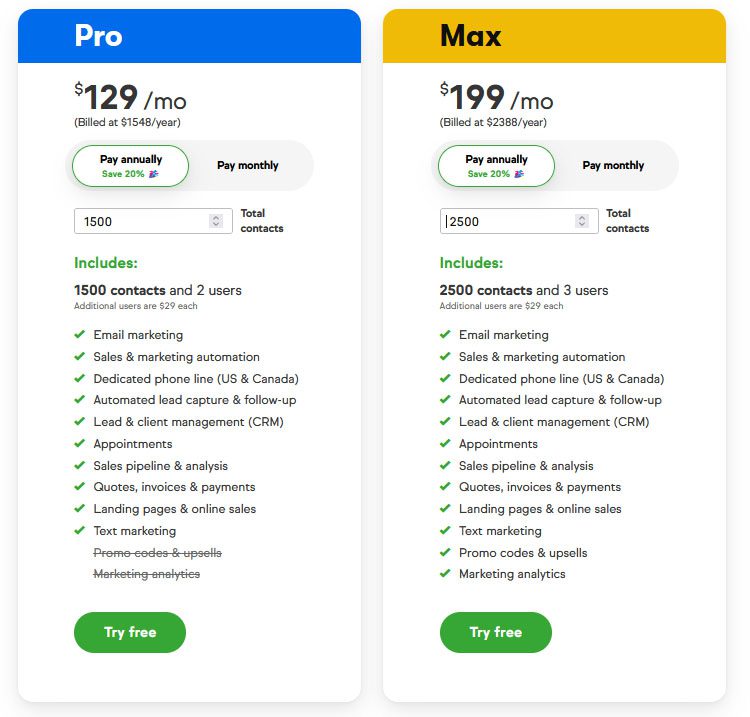 Features Comparison Between ClickFunnels and Infusionsoft
ClickFunnels and Infusionsoft platforms offer a variety of features that can help your business grow. Here are some key differences between the two platforms:
Infusionsoft offers a greater range of features, including integrations with popular ecommerce platforms like Amazon and Shopify.
ClickFunnels offers a more user-friendly interface and an easier way to create funnels without any programming required.
Both platforms offer automation capabilities for tracking your marketing campaigns and measuring results.
Infusionsoft has fees associated with some of its more advanced features, while ClickFunnels does not.
ClickFunnels and Infusionsoft are two software platforms that businesses can use to create and manage their sales funnels. Both ClickFunnels and Infusionsoft offer features that allow businesses to track the progress of leads through the sales process, as well as other features that can help businesses generate leads and conversions.
Infusionsoft vs Clickfunnels – Why Use Either of Them?
Sales funnels are essential for businesses of all sizes. They help increase sales and improve conversion rates by creating an organized system for selling products or services. A good sales funnel should have a well-defined path from the initial contact with customers through to the sale or purchase of a product or service. It should also be easy to use and follow, allowing customers to move easily from one stage to the next.
Sales funnels can help increase customer loyalty, as well as grow your business's bottom line. By improving your overall sales process, you can achieve higher profits and enhanced customer satisfaction – two key ingredients for success in any business sector. Creating a sales funnel is an investment in your business's future – don't let it languish on the sidelines!
Which one is Better: Clickfunnels or Infusionsoft?
With so many e-commerce platforms on the market, it can be hard to decide which one is better for your business.
But which one is better – Clickfunnels or Infusionsoft?
There are a few key factors to consider when choosing an e-commerce platform, including pricing, features, customer support, and integrations.
So which one is better for your business? That depends on your specific needs. If you're looking for a more affordable option with fewer features, Clickfunnels might be a better choice. On the other hand, if you need more features and want them to be easily customizable, Infusionsoft may be a better choice.
When looking into Clickfunnels vs Infusionsoft, people often had these Frequently Asked Questions