Russia's war on Ukraine becomes worse.
S&P 500 and DOW Jones: "Meh, let's get back to what's really important – chasing all time highs!"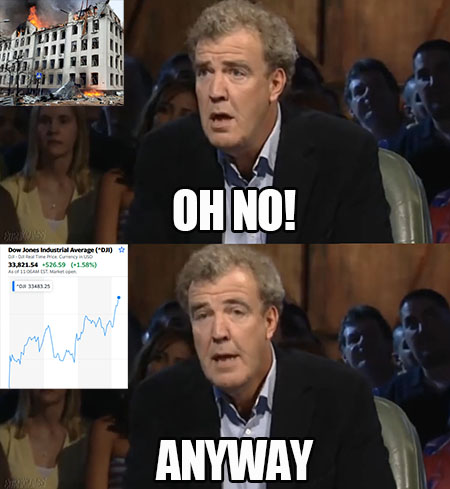 Despite a sustained rise in oil prices, stocks climbed on Wednesday, despite the escalating confrontation between Russia and Ukraine.
The Dow Jones Industrial Average increased by 233 points, or 0.7%. The S&P 500 rose 0.5 percent, but the Nasdaq Composite, which is heavily weighted in technology, dipped marginally.
The adjustments came as oil prices continued to rise, building on a big surge from the day before.
Both U.S. oil futures and international benchmark Brent crude futures climbed by roughly 6% apiece. Brent was trading at $112.02 and West Texas Intermediate was at $110.06.
Wall Street wants to take a departure from the defensive playbook and avoid stocks in utilities, healthcare, and consumer staples. In a message to clients, Oanda senior market analyst Edward Moya wrote, "With oil prices and Treasury rates climbing so much today, it's no wonder energy and financials are leading the open higher."
The stock market rose as a result of positive corporate news. Ford's stock rose 4.6 percent after the company said it will divide its electric car and legacy manufacturing divisions into two distinct firms. Salesforce climbed 1.7 percent after reporting fourth-quarter earnings that exceeded expectations on both the top and bottom lines.
On Wednesday, Fed Chair Jerome Powell will give his semiannual monetary policy brief to Congress. Despite the "very unpredictable" impact of the crisis in Ukraine, the Fed's chairman indicated that rate rises are expected to begin this month, and that the Fed will make headway but not complete a plan to decrease its balance sheet.
"The ultimate conclusion is that we will proceed," Powell said,"but we will go cautiously as we learn more about the economic repercussions of the Ukraine war."
Oil's rise looked to benefit energy companies, with Exxon and Chevron both up nearly 2% in early trade.
However, rising energy costs have heightened fears of inflation and a potential slowdown in the economy. The index's gains on Wednesday morning pared losses from the previous session, which included a significant increase in oil prices.
"Yesterday's price action, which saw Fed tightening expectations pushed out, global yields plummet, the US dollar and gold strengthen, and equity markets (ex-Energy) selloff sharply, strongly suggests that investors are increasingly pricing in a potential sharp slowdown," said Chris Senyek of Wolfe Research in a note to clients.
Government bond yields rose on Wednesday as well. After dipping below 1.7 percent the day before, the benchmark 10-year note recently yielded close to 1.8 percent. Bank stocks looked to benefit from the reversal, with Wells Fargo jumping 2.4 percent.
Investors were on edge Wednesday after news that Russian military had infiltrated Kherson and encircled Mariupol, two crucial cities in the country's south.
In prolonged trade, earnings lifted numerous other equities. Nordstrom's stock soared more than 30% after reporting solid results, while SoFi's stock increased by about 10%.
On the negative, First Solar's stock dropped more than 15% after the business missed revenue projections and provided poor outlook. After disclosing new financial targets, Citi fell 3.5 percent.
Investors are also anticipating Friday's release of a critical jobs report. According to ADP, private enterprises in the United States gained 475,000 jobs in February. Dow Jones polled economists, who predicted 400,000. The company also raised its January figures.
The Dow Jones Industrial Average plummeted 597 points, or 1.76 percent, in Tuesday's trade. The S&P 500 index fell 1.55 percent, while the Nasdaq Composite dropped 1.59 percent. All are rebounding today.
Several IT businesses are slated to report earnings on Wednesday, continuing the earnings season. After the market closes, Okta, Pure Storage, and C3 AI will report. After the bell, ChargePoint is also expected to report.
While the Ukraine battles for its freedom, the financial markets seem indifferent as they continue to lift on any hope of positive news.
Get Hedge Fund Beating Options Trades Delivered to Your Inbox!
Tired of missing out on the huge gains in the market?
Wishing you knew which trades had the best odds of succeeding?
Would you like to know EXACTLY how & which trades to place WITHOUT having to spend years learning?
Well now you can let our Team of Trading Experts & Exclusive AI Trading Software do the work for you!
PS – Our trades have returned QUADRUPLE digit yearly returns over the past 4 years.