Coinbase and Binance reject demands for a blanket ban on Russian users,
as critics claim their platforms are being used to side step Western sanctions
By continuing to do business in Russia, the two exchanges are deviating from mainstream finance, according to anti-money laundering specialists and European authorities, weakening Western efforts to isolate Moscow.
In a series of tweets on Friday, Coinbase Chief Executive Officer Brian Armstrong stated, "We think everyone deserves access to fundamental financial services until the law states differently."
However, if the US government decides to implement a blanket ban, the exchange will enforce it, according to Armstrong.
In an emailed response to Reuters, a representative for Binance, the world's largest crypto exchange, stated, "We are not going to arbitrarily suspend millions of innocent consumers' accounts."
Both crypto exchanges have said that they will abide by government sanctions.
Major cryptocurrency exchanges have been asked to prohibit their services in Russia in order to prevent sanctioned organizations from utilizing cryptocurrencies to store their assets. The exchanges, on the other hand, claim to be well-equipped to prevent misuse of their systems.
Following Russia's invasion of Ukraine, the price of bitcoin has risen as people in those nations want to keep and move money in anonymous and decentralized crypto.
This is a perfect example of how a decentralized currency can be used outside of government control.
We can see how the same financial instrument can be used to both: fund Ukrainian resistance, allow Russians to transfer wealth around imposed sanctions.
That is, of course, so long as the exchanges themselves are outside the government's reach.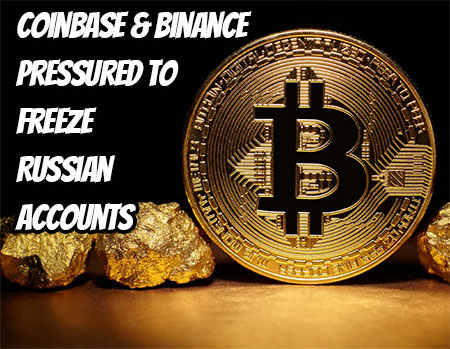 Get Hedge Fund Beating Options Trades Delivered to Your Inbox!
Tired of missing out on the huge gains in the market?
Wishing you knew which trades had the best odds of succeeding?
Would you like to know EXACTLY how & which trades to place WITHOUT having to spend years learning?
Well now you can let our Team of Trading Experts & Exclusive AI Trading Software do the work for you!